Summer Service Learning Experience - Alumni Spotlight | Samantha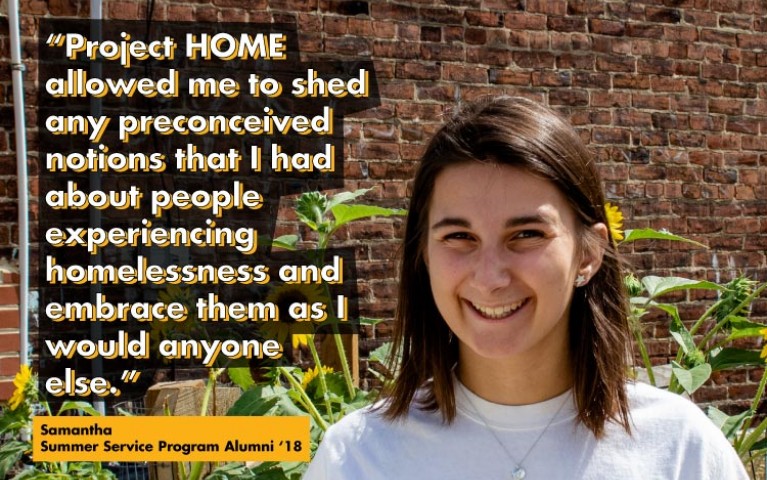 Every summer we offer rising 10th to 12th grade students a Summer Service Learning Experience focused on learning about issues of poverty and homelessness, building relationships with others involved in social change, getting to know persons who have experienced poverty and homelessness, and engaging in service with Project HOME and other agencies fighting poverty, hunger and homelessness in Philadelphia. Last year we spoke with some students to learn more about their experience from their perspective.  See below to learn about Samantha's Summer Service experience.
Name: Samantha Raymond
Age: 18
School: Harriton High School
Grade Level: 12
Hobbies/Interests: Community Service!
How have you grown as a person through this experience?
My friend Sindu and I, who attended the summer program together, have a club for Project HOME at Harriton. I think that I was able to abandon the idea of them vs. us. It was no longer that we were helping the residents of Project HOME but that we were becoming friends with Chris or serving meals at Kairos House. Project HOME allowed me to shed any preconceived notions that I had about people experiencing homelessness and embrace them as I would anyone else.
What had the most impact on you from this experience?
The most impactful day was when we went to Women of Change to serve lunch, I think. It allowed me to see all of the components that go into creating an environment safe and secure for people who are accustomed to living on the harsh streets. It showed me so many valuable things like the passion that the chef had for the residents and for her cooking, not taking time off and trying her best to make sure every resident was happy. It showed me the ingenuity behind the cubbie type things that students artfully crafted. Finally, it showed me where the scarves that we have been making in our club were going and I had never been so elated!!
How will you take your Project HOME experience with you?
I think that I will behave differently moving forward when encountering people. People experiencing homelessness are no different than people in high school, both are people and are therefore very similar to me. I will no longer stroll past people in the park for fear of not knowing what to say or intimidation, I will stop and smile. Acknowledge that they too are people, which a lot of others fail to remind them of and greet them with kindness. I learned that everyone you meet has a layered back story and hardships that you could never imagine so extending each person an extra smile or an extra compassionate greeting goes such a long way.
What would you say to encourage students to participate in the Summer Service Program?
The summer service program is not just an experience that will give you service hours (which it will), but one that will change your perspective and outlook on life and allow you to appreciate the obstacles that our friends without stable homes encounter.
In a 3-5 sentences could you please describe your overall experience during your weeks at the Summer Service Program?
During my time at the Project HOME summer service program, I learned more than I ever could have hoped to. I was able to greet the residents themselves while serving lunch at Kairos House and Women of Change, and understand the factors in societies that promote homelessness including unjust incarceration and sickness. We were even able to work on converting the knotted grotto project, a beautiful art installation of messages and prayers from people all over Philadelphia, into a wall for one of the new residences. Our conversations with the residents themselves allowed me to get a glimpse into their lives and form meaningful, and lasting connections with them. It was the most incredible experience that I've had the pleasure of participating in quite a long time!
If you are interested in learning more about our Summer Service Learning Experience click here for registration information.