Roots and Branches: Reflections from Sister Mary (Spring 2020)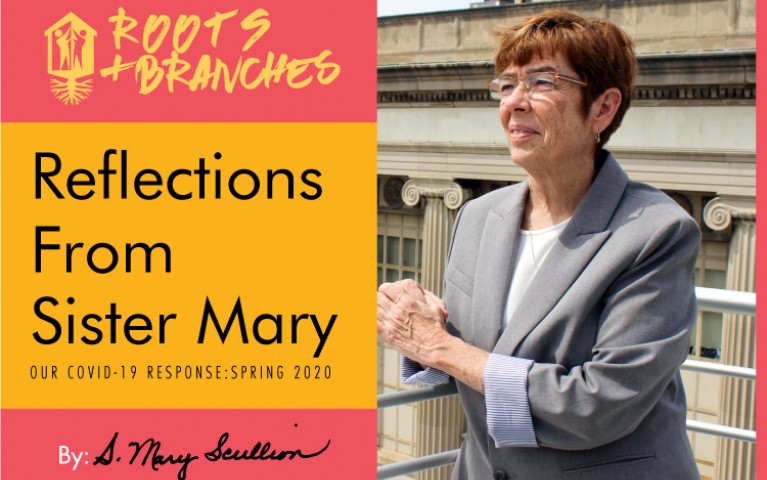 What do you do when you are instructed to "stay home", but you have no home to stay in? How do you maintain community when social distancing is considered a life-saving precaution? What do you do when such life-saving precautions directly challenge the values of the community you are a part of?
These were among the difficult questions that we weren't sure we had the answers to when COVID-19 abruptly entered our lives. We were shaken. We were anxious. We were concerned about the wellbeing of our staff, residents, and all the people still calling the streets of Philadelphia home. Our whole entire way of being suddenly shifted and uncertainty seemed to permeate every place we turned to for guidance.
Yet another question: What do we do?
But as quickly as the questions appeared, one sole answer stood up tall within us:
We. The resilience of. The creativity of. The resolve of. The collective power of We.
An example of this was when a person presented with potential COVID-19 symptoms at the Hub of Hope. Thanks to our wonderful and quick-thinking staff, a space at our Sacred Heart Recovery Residence was immediately identified as somewhere to have them quarantined.
Staff at the Hub prepared paperwork. Meanwhile, Sacred Heart staff were readying the space, and over at 1515 Fairmount Avenue, one of our outreach workers was donning his personal protective equipment to pick up the person and transport them to Sacred Heart. In fact, though the person had to be in isolation, they arrived to a warm meal and welcoming smiles that very same evening.
All of this was carried out carefully, quickly and as always, with tremendous compassion. Now with family, that person was able to rest and recover at Sacred Heart. They were home. They were in community. They formed new relationships.
The power of We.
Over 100 families and individuals added a resident to their grocery list and delivered much-needed groceries to residents that needed to stay home (for more details on the Grocery LifeLine). Over $150,000 was given in gifts ranging from $5 to $5,000 through our on-line campaign to help pay for additional COVID 19-related supplies. Over 2,000 masks were sewn and donated for our residents and those we serve at the Hub of Hope, Stephen Klein Wellness Center, and through Outreach services.
Friends, in the midst of this unprecedented time, I saw Beloved Community in action. Although faced with uncertainty, we let our mission ground and guide us. We held steadfast to our belief in the transformational power of building relationships and community and let it overpower our anxieties, fears, and barriers of physical distance. I am still awe-stricken at the care, compassion, and creativity of our community during this time. I am deeply moved by and grateful for every single person in this beloved community we continue to build.
This is how we navigate through times of crisis. We do it together - because none of us are home, until all of us are home.