Project HOME Now Accepting Book Donations
Tuesday, February 12, 2019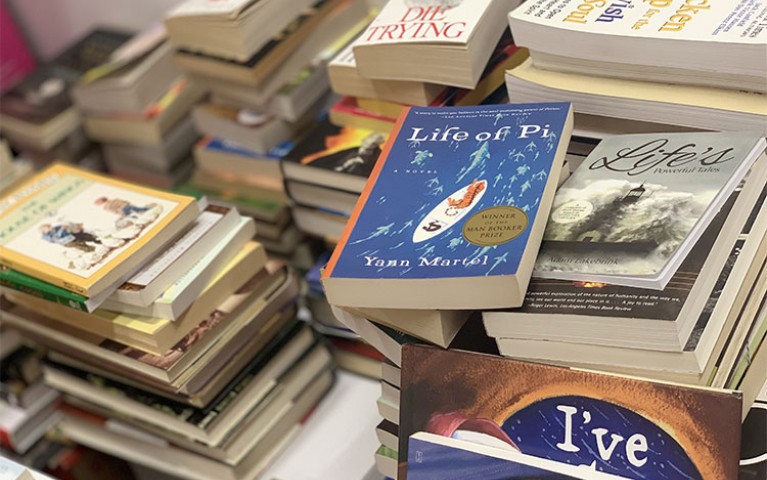 Project HOME is starting a new initiative—an online book store!
Before you get excited, we aren't opening a creaking old bookstore selling used Proust and old Toni Morrison novels in stack, but what we are doing is creating good paying jobs for Project HOME's residents.
We will take your gently used books in good condition and we'll sort them and sell them online through Amazon and other sites. We've already started, but we need a steady stream of book donations—at least 25,000 to start. That is where donations come in. Please bring your gently used books (sorry, no encyclopedias, very old text books or periodicals) to HOME Spun Boutique at 1523 Fairmount Avenue.
John O'Mara, a resident at Francis House of Peace, is already hard at work sorting through our current donations.
"It's exciting to be involved at the beginning of what I know is going to be a big new enterprise at Project HOME."
Nic Watson, our Director of Social Enterprise, borrowed the idea from a program he ran when he lived in New York City.  "People want to know that their old books are being taken care of when they give them away.  By sorting them and selling online, we can get books in to the hands of people that want them and the money from the sale goes to support jobs at Project HOME—donors win, customers win, and residents win."
You can hold a book drive at your company, your school, or in your neighborhood. Oh, and if this leads you to a full-on Kondo-ing of your home, add some clothing to your book donation!
Contact Nic Watson at nicwatson@projecthome.org with any questions.