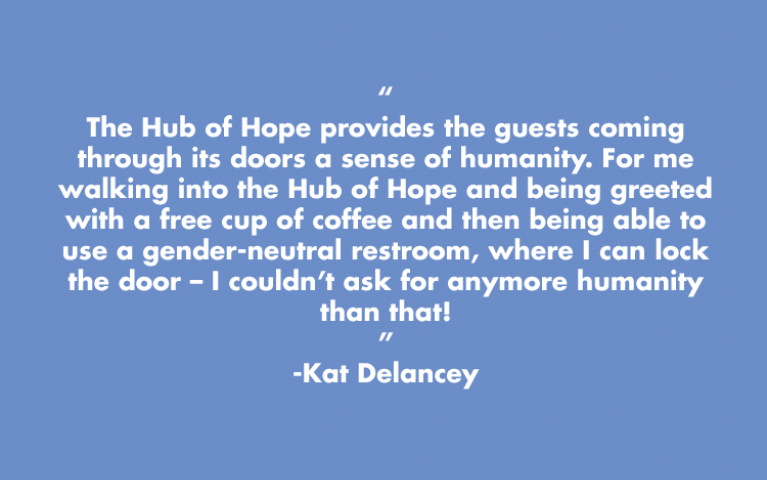 Project HOME began operating the Hub of Hope back in 2011 as a safe space for the most vulnerable persons who were homeless and sleeping in the concourses of Suburban Station in Center City Philadelphia. Folks came in seeking case-management services in order to access shelter or permanent housing. If people wanted to seek treatment for their substance abuse, the case management staff would also assist with that. Many times people that are living on the streets do not access health care easily. The Hub of Hope provides a safe space for folks to sit and meet with doctors.
On January 31, 2018, Project HOME, Project HOME's Outreach Coordination Center, the City of Philadelphia, and SEPTA held a ribbon-cutting ceremony to celebrate the opening of the new Hub of Hope in the Center City sub concourse located under the Municipal Services Building, their address is 1400 Arch Street. The 11,000 square-foot facility is the first of its kind engagement center for the homeless. The center's hours are Monday through Friday, 7 a.m. to 7 p.m., with the hope of soon offering Saturday and Sunday hours. The new center will not offer a place to sleep but will provide coffee, showers, and a place to do laundry. On weekends, it will serve free meals. The expansion will also allow for a health clinic, medical professionals and behavioral health specialists to be on site, as well as certified peer specialists who can help people apply for jobs or just offer peer support. There are onsite Outreach Coordination Center case aides to assist those wishing to seek shelter and possibly work towards long-term permanent housing.
The Hub is part of my own personal journey. Back in 2011, I came into the Hub as someone in need of services—and in recent years I have been someone who volunteers in that space. I know all too well about the struggles of homelessness and the barriers that come along with it. I am transgender. I use she,her/they,them pronouns. Accessing services can be challenging for me at times; the stigmas are a big issue. Telling folks your truths sometimes can be used against you.
I too struggle with some of the same issues as the guests that have come through or will come through the Hub of Hope. Over the last decade, I have struggled with maintaining an apartment. Obtaining one is the easy part—but I tend to fall by the wayside when I allow folks to come into my place of residence but who take over my space.
I also struggle with substance abuse and mental illness (major depressive disorder), which clinically is called a co-occurring disorder. I have case management with the City which has been kind of a blessing for me, because in areas where I cannot advocate for myself, that is where they come in: They work for me, they work with me. I tell anyone with case management or seeking case management: The case managers work for you and with you!
As of this writing, I am struggling again to find my own place of residence with some personal boundaries in place. I love the people who struggle with some of the same things I do, but I need to love them with some personal boundaries in place.
The Hub of Hope provides guests a sense of humanity. For me, walking into the Hub of Hope and being greeted with a free cup of coffee and then being able to use a gender-neutral restroom (where I can lock the door)—I couldn't ask for any more humanity than that!

If you or someone you know is experiencing homelessness and wishes to access services, you can visit the Hub of Hope, Monday through Friday, 7 a.m. to 7 p.m. The city's 24-hour Outreach Hotline can be reached at 215-232-1984 or toll-free at 1-877-222-1984.