Kristin Segro: Volunteer Fashionista at Home Spun Boutique
Wednesday, March 25, 2015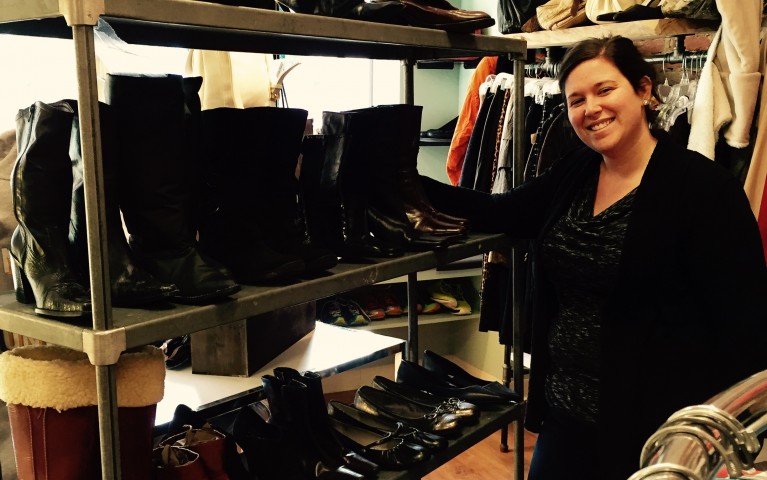 Kristin gives back with style!
When Kristin Segro decided to give back, our Home Spun Boutique was the perfect match. Kristin's eye for design, fashionable palate, and consistent presence is an anchor at the boutique. Every Tuesday you'll find her at her post, where she is responsible for sorting clothes, researching and pricing designer items, and organizing donations. (Her favorite part is jewelry!) "I appreciate that I can be useful in a small way for an organization that is providing service and opportunity in a very big way," she said.
When Kristin is not at the boutique, she is teaching 21 energetic second-graders in North Philadelphia's William Dick elementary. In her downtime, Kristin enjoys shopping at vintage thrift stores and going to the beach. Kristin has found many sweet treasures at the boutique, but her fondest find is her pair of original Vanna White shoes, which she often wears in her classroom!
With the need to balance both financial sustainability and philanthropic efforts, the boutique often finds itself in need of stellar volunteers to fill in the gaps and to keep our mission rolling. If you or someone you know is interested in learning of ways to volunteer with the Social Enterprises at Project HOME, let us know!
If you're not able to volunteer on a regular basis but still want to be involved, consider organizing a clothing drive or dropping off your high-quality donations during our store hours. For more information about the vision, mission, and donation guidelines, visit us here and follow us on Pinterest! Our HOME Spun Resale Boutique is located at 1523 Fairmount Avenue, and is open from 11 am to 7 pm Tuesday through Friday and from Noon to 5 pm on Saturday.