How the "O" in Project HOME Restores Dignity
Wednesday, February 26, 2020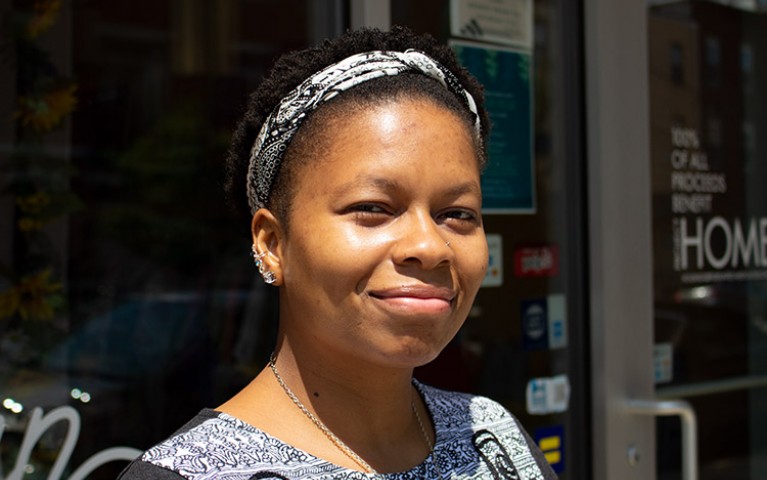 When Yishya, "Yaya", took a job at our HOME Spun Resale Boutique at 1523 Fairmount Avenue, she figured it would just be a stopgap on the way to her next opportunity. "Honestly, I didn't think that it was anything that I would be good at," said Yaya. "I didn't know how well I would be able to engage with people, you know, being shy." But she took to the position quickly and whenever a customer at HOME Spun asked about Project HOME's mission, talking about it seemed like the most natural thing to Yaya.
Sharing Project HOME's mission has also helped Yaya tell her story of experiencing housing insecurity as a child while her mother was dealing with a substance-use disorder. She currently lives at our Kate's Place, where her mother lived until she passed away in 2019.
While it's been a difficult year in some ways, in other ways Yaya has never been happier about getting up and going to work. It has changed her as a person. "I feel awesome," Yaya explains. "I think this is the first job I've ever had that I've actually really enjoyed." 
Employment Specialists like Darrelle Seagraves recommend positions for residents like Yaya. Darrelle also helps to place in employment those living in the 19121 and 19132 zip codes. She works within the "O" (opportunity for employment) part of Project HOME, called Education and Employment Services. It's an initiative that provides career planning; job search assistance; preparation for interviews; coordination with employers and job-site coaching; and access to future job opportunities. While Darrelle didn't place Yaya, she has watched her grow in her role. "I love seeing how she's pushing herself out of her comfort zone and trying different things," said Darrelle.
Yaya's story is the goal for every Employment Specialist: finding the perfect position that gives someone a sense of belonging, fulfillment, and accomplishment. In 2019, the programs in Education and Employment Services helped over 890 adults. Of Project HOME's adult residents, 350 were involved with paid employment, internships, or Social Enterprise work like HOME Spun (see "I Am Project HOME", for more information on Project HOME's Social Enterprise program), with 340 individuals maintaining competitive employment.
Education and Employment Services are founded on the evidence-based "Individual Placement and Support" model, which increases job placement and retention for people who have experienced significant barriers to employment, including substance-use disorder, and mental health issues. Those barriers can be insurmountable for some employers, but not for Tess Hart, one of the owners of Triple Bottom Brewing, a new brewery that opened in Center City this year.
Tess reached out to Project HOME to help her staff her new brewery. Maybe it was being raised by a social worker mother, or working in community and economic development, but this is an idea that came naturally to Tess and her business partners. "From the beginning, the idea of being a fair chance business was something that we wanted to do," said Tess. Triple Bottom Brewing currently employs fifteen people and about a third of them came through non-profit organizations helping underserved populations, like Project HOME.
When Tess was looking to employ people, some of whom had experienced significant trauma, she took courses to help her recognize triggers and understand how to support staff. The biggest takeaway though? "It's really just about being kind," explains Tess.
Organizations like Triple Bottom Brewing make Education and Employment Services possible at Project HOME. PECO, SEPTA, the Free Library of Philadelphia, Temple University, the Lenfest Foundation, John and Janet Haas, the Neubauer Foundation and countless others also offer opportunities and support to Yaya and hundreds of other individuals to build employment experience and obtain a living wage.
These are the kinds of organizations that Senior Employment Specialist Darrelle Seagraves works with to connect Project HOME's community and residents with opportunities. She says that true success happens when you meet the person where they're at and walk that journey with them, sharing the ups and downs and everything in between. "When people may have felt isolated and when they have a hiccup, I tell them it'll be okay and I'm still gonna be there for them," explains Darrelle. "Supportive employment can give someone a renewed sense of self and helping someone keep their dignity intact is priceless."
For Yaya, the empathy and compassion she has received is what makes her want be the best representative of Project HOME to customers who visit the HOME Spun Resale Boutique. "I'd like to just be a part of the Project HOME community, because that's how much affection I've developed since I've been working in the store. So, it's definitely a blessing."