In Grief and Solidarity Concerning the killing of Walter Wallace, Jr.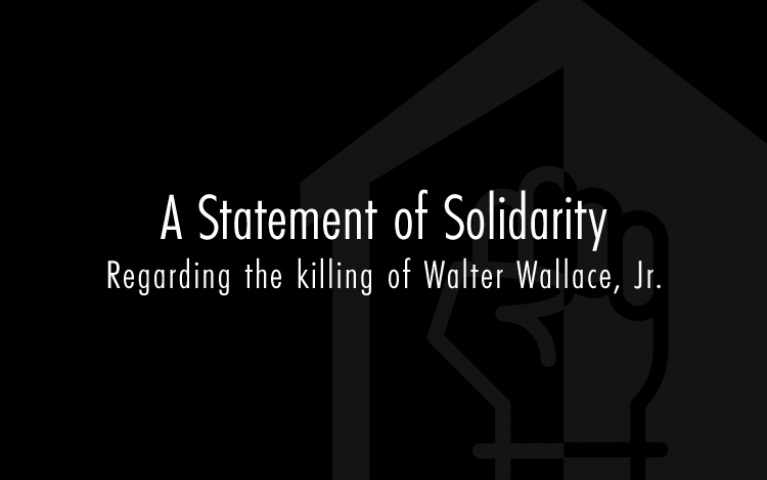 Dear Project HOME Community:
Yesterday afternoon, the Philadelphia Police Department shot and killed Walter Wallace Jr., a 27-year old Black man in a West Philadelphia neighborhood in front of his family and neighbors. His mother pleaded for police not to shoot him and tried her best to de-escalate the situation. Walter had a history of mental illness and his death confirms the fears of many of us as we navigate similar situations of mental health crisis and police involvement within our communities.
This is, yet again, a time of anger and mourning resonating throughout the Project HOME community and Philadelphia. We are horrified by the senseless killing of Mr. Wallace and by the repeated violence and senseless killings by police in our communities.
We call on Commissioner Outlaw, the Kenney administration, and District Attorney Krasner's office for action, full transparency, and accountability. We call for system-wide reforms, de-escalation training, and reckoning with violence by police. We call for compassionate approaches and safety for all Philadelphians – to strengthen and deeply fund alternatives that reduce the use of police, such as street outreach, physical and behavioral health, education and employment programs, and other community and social services. These services may have allowed an intervention that would have prevented Mr. Wallace's killing.
We stand in solidarity with the movements for racial justice. Every person is precious and worthy, every person has dignity, gifts, and value, every person has the right to flourish. We stand with, honor, and hold in our thoughts Walter Wallace's parents and everyone who loved him.
In grief and solidarity,
S. Mary Scullion