COVID-19, How We Fought Back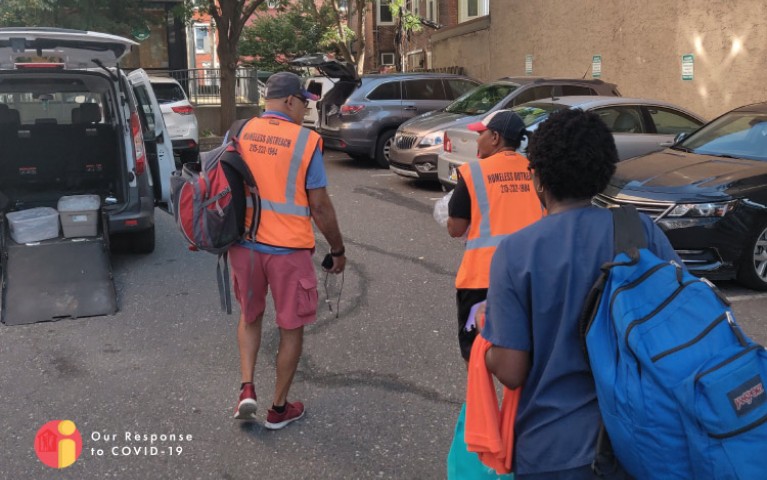 We watched as Wuhan, China was decimated by a new strain of contagious respiratory illness called the coronavirus or COVID-19. The first positive case was reported in the United States on January 21st and by early March, Philadelphia was reacting to the local impact of this virus.   
On any given day at Project HOME, our thoughts turn to those who are most vulnerable in our city. During this pandemic, that awareness increased tenfold. And that is why starting the week of March 9th, we put our plan into action.  
We created a COVID-19 preparedness task force comprised of key leaders in the Project HOME community and guided by Monica Medina-McCurdy, our Vice President of Healthcare Services.  We talked with the City of Philadelphia, our outreach team, staff at the Hub of Hope, our healthcare professionals, and all our teams about how to respond to COVID-19. The speed with which we responded was lightning fast, and yet we felt we were woefully lagging behind a virus that had every single person in its sights.  
For thirty years, Project HOME has been providing services to people who experience chronic homelessness. We have developed nationally recognized programs that have proven that homelessness can be solved. We have also been a leader in Philadelphia in responding to the root causes of homelessness by helping to rebuild low-income neighborhoods and by engaging in political advocacy to bring about positive public policies for low-income and homeless persons. But COVID-19 was challenging every facet of that work.  
Residential staff roll up their sleeves   
With seventeen residential buildings across Center City with 894 residents, program and property managers had their hands full taking care of the needs of each resident. The first order of business was to make sure each building had the resources they needed in this moment. The next task was to get a gift card to all residents so they could stock-up on groceries, especially if they had just lost their job or had any under-lying conditions that meant they should be self-isolating.  
For those who were self-isolating, we created a program called the Grocery LifeLine (see page 5 "Small Ways to Make a Big Difference" for more information on how to be a part of this program) where someone could choose a resident to shop for and have groceries delivered to their building.  
A few of our residences have folks living in clusters. It suddenly became an urgent need to get those who had underlying conditions to safer spaces and so we rented hotel rooms for those who might have been more seriously impacted by the virus.  
Outreach physically distance but continue work  
The core of the work of our Outreach staff involves making a physical or emotional connection. That might be a handshake, a hug, or whatever is needed in that moment to cement the relationship. When that means of connecting was gone because of COVID-19, our staff had to find ways to do their work while keeping themselves and others safe.  
Sometimes this meant wiping down snacks or water bottles as they were being handed out in Kensington and other parts of the city. Other times it would look like a staff member showing up in personal protective equipment to drive someone who might be sick to a quarantine location.  
Outreach was one of the departments that was hardest hit during this time and yet they have persevered to continue their work so that the most vulnerable on our streets could have their needs met.  
Hub shined a light of hope in the darkness  
The very nature of the Hub of Hope in Suburban Station is designed to be a physical gathering space for those experiencing homelessness. Each day hundreds of cups of coffee are usually handed out, showers, laundry and medical services are offered, case managers help with housing or other needs, and relationships are built. The Hub sees about 150 – 200 people daily, but when Pennsylvania Governor Tom Wolf advised that no more than two people should gather and at a safe distance of six feet apart, the Hub's entire model of service delivery had to be rethought.  
After regrouping and rethinking the space, new protocols were implemented. Folks were screened outside at the corner of JFK Blvd and Broad Street before entering the Hub. If they exhibited any signs of COVID-19, they were sent to the medical tent to be tested. From there, they were connected with the city so they could be quarantined at one of their sites. Sometimes they were quarantined at Project HOME buildings if space was available, or in hotels.  
If they passed the screening, they could enter the Hub, one at a time, and see a Doctor, get a shower, or have whatever need they had in that moment taken care of. The most important thing is that the Hub's mission of engagement and service has never ceased - and people experiencing homelessness during this crisis, continued to have connection and care.  
Medical centers didn't miss a beat  
Project HOME has three medical sites. The Stephen Klein Wellness Center at 2144 Cecil B. Moore Avenue, a site at Pathways to Housing on the Old York Road, and a satellite office at the Hub of Hope. With the immense strain that COVID-19 brought to all medical facilities across the world and nation, Project HOME's medical staff braced themselves for a tidal wave of cases.  
They reworked their staff plan to take more calls to head-off patients with COVID-19 presenting to avoid risk of infecting staff and other patients. The patients that did present with symptoms were tested, able to self-isolate at home until the results came back, and then treated as needed.  
One of the biggest challenges that the Stephen Klein Wellness Center site had was maintaining normalcy for some of the important daily work. Things like the Medication Assisted Treatment that is offered for people recovering from substance-use disorder could not stop. They figured out a way to continue this work by using telemedicine, while addressing the growing needs of a population presenting with COVID-19 symptoms.  
On daily situation calls, asks for masks, gloves or other sanitary needs were made of medical and they delivered. But donors also stepped up and delivered by making masks for our medical and outreach staff. If it hadn't been for the quick thinking of medical staff to try and divert as many positive, treatable cases of COVID-19, the entire 19121 and 19132 neighborhoods could have been decimated by this terrible virus.  
Census counting must go on 
As the virus was making its way to our shores, our advocacy team had started the important task of making sure that folks knew about the 2020 United States Census and were counted in it. They had large groups of people knock on doors in North Philly to educate our neighbors. But then COVID-19 arrived, and they had to rethink their strategy, but of course not their commitment to this moment.  
With the support of funding partners at Keystone Counts and Philly Counts, they encouraged everyone to stay safe at home, and helped team members transition to work remotely. Instead of door knocking, folks were texting and calling our neighbors and Project HOME residents to support them to fill out the census form and be counted.  
Collaborations in time of need 
Working together with outside partners is a core part of the work we do at Project HOME, but during COVID-19 those relationships became even more important to meet the needs of those we serve. This is why we connected with many generous donors, Prevention Point (an organization that helps those with substance-use disorder) in Kensington and Broad Street Ministry (they feed many of the people we serve at the Hub of Hope) to help get food to folks experiencing homelessness.  
The decision was made to provide 2,000 meals per day at City Hall and in Kensington. The logistics of carrying something like this out, seemed impossible. And yet, starting April 13th, all of us came together and fed those in need.   
Project HOME triumphs over COVID-19 
Whether it was staff innovating, donors helping to fill gaps, or entire departments rethinking their operations to keep things moving, we are doing it! In the over three decades that Project HOME has existed, it is no stranger to challenges, but COVID-19 tested everything we built as an organization. We are coming out the other side stronger, a little battle weary perhaps, but ready to take on the next challenge. With you by our side, together, we can do anything.