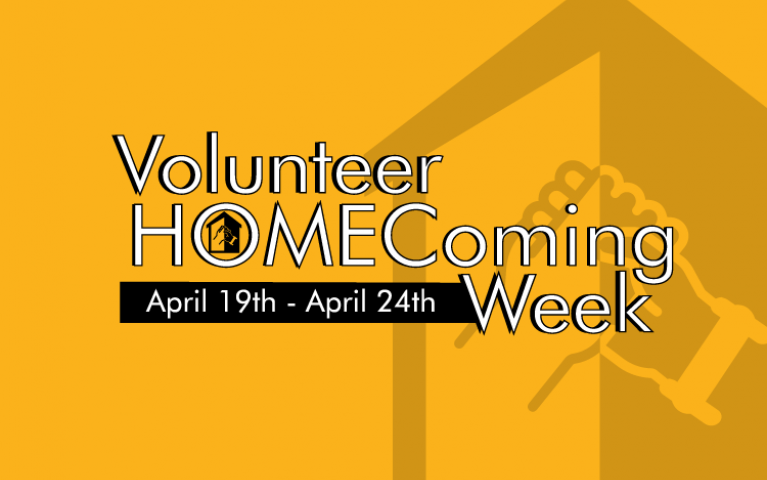 Project HOME is excited to host a series of events during National Volunteer Week from April 19th to April 24th. This weeklong series has various volunteer opportunities planned for adults, youth, co-workers, and the entire Philadelphia community. We hope these events will more deeply connect you to our mission of ending and preventing chronic street homelessness in Philadelphia. 
Stephen Klein Wellness Center Food Pantry Drive
Monday, April 19 from 10 a.m. to 3 p.m.
Project HOME's Stephen Klein Wellness Center (SKWC) is committed to addressing the health and wellness needs of people who are currently homeless, formerly homeless, and people living in our North Philadelphia community by providing comprehensive services spanning integrated medical and behavioral health services, reproductive health and pediatric health services, Medication-Assisted Treatment services, and dental services. 
You can help bolster the SKWC's food pantry by dropping off non-perishable food items, such as soup, breakfast bars, powdered juice mix, canned goods, or "Notes of Hope."
Learn more by clicking here for "Additional Way to Give" at the bottom of the page for a complete list of in-demand pantry items. We will also be accepting donations at our 1515 Fairmount Avenue location. Please look for staff and volunteers beneath a yellow tent throughout Monday. 
Notes of Hope Campaign
Tuesday, April 20
The Project HOME community has been dramatically impacted by COVID-19. Residents with underlying medical conditions have been sheltering in place. Our outreach and healthcare services teams continue to work long, exhausting hours, while our residential and support teams continue to work behind the scenes to ensure the health, wellness, and safety of our entire community.
You can stand in solidarity with the Project HOME community by writing a "Note of Hope." 
We invite you to download the PDF and follow the instructions on how to send a positive word to a Project HOME community member who could use a bit of good news in the mail. Thank you so much for sharing a Note of Hope!
Please mail your Notes of Hope (or express yourself in original artwork) to:
John Owens
Project HOME
1515 Fairmount Avenue
Philadelphia, PA 19130 
Book Drive at HOME Spun Boutique
Wednesday, April 21 from 10 a.m. to 3 p.m.
Our newest social enterprise venture, Project HOME Books, is back up and running again. We've already sold thousands of books, providing jobs and income for our resident employees.
But we need more books! Check out this helpful webcomic showing how easy it is to collect books in your neighborhood, church, or office and donate, creating jobs and opportunities for our residents. And it's also fun, so take a look and email Nic Watson at nicwatson@projecthome.org with any questions.
Of course, if you wish to donate books all week long we will happily accept them! We will also be accepting donations at our main office, please look for volunteers underneath a yellow tent. 
Earth Day Plants for our Residents in Recovery
Thursday, April 22 from 10 a.m. to 3 p.m.
We are excited to celebrate Earth Day with our residents this Spring of 2021. Please consider donating a plant to a resident in recovery at Project HOME. Join our local partners:
FarmerJawnPhilly - 6730 Germantown Ave, Mount Airy, PA 19119 | IG: @FarmerJawnPhilly 
Greensgrow (West Philly) - 5123 Baltimore Avenue, Philadelphia, PA 19143 | 215-427-2780 x6
in offering their assistance in this Earth Day collaboration and donate a plant today! 
Project HOME will also be accepting plant donations at our main office from 10 a.m. to 3 p.m. at 1515 Fairmount Ave, 19130, please look for volunteers underneath a yellow tent. 
Lunch and Learn Discussion on Homelessness
Friday, April 23 from Noon to 1 p.m.
Join us for lunch and a panel discussion on homelessness in Philadelphia. Panelists will include Project HOME employees and community members. To register for this virtual event, please visit our Volunteerhub. 
National Volunteer Week Street Clean-up
Saturday, April 24 from 9 a.m. to Noon
Project HOME welcomes our volunteers back to the Helen Brown Community Center to continue our work to uplift and assist our neighbors in the 19121 ZIP code to break the cycle of poverty and enable all to attain our fullest potential as individuals and as members of the broader society.
What you need to know. 
We are limiting this event to 35 volunteers, so sign up on Volunteerhub to reserve your place. Volunteers will be offered PPE, clean-up tools and supplies, lunch, and refreshments before the event begins. We respectfully ask all volunteers to practice the following safety precautions when attending:
Wear a blue surgical mask (provided)
Use hand sanitizer frequently if sharing tools (provided)
Wear gloves when out in the field handling trash (latex and non-latex provided)
If you are experiencing any symptoms, such as a cold, cough, or have been asked to self-quarantine or had exposure to COVID-19, please stay at home per the CDC and the Philadelphia Health Department
Note: We recognize the latest recommendation from the CDC allows those "fully vaccinated people to gather 'maskless' with other vaccinated people," however, to ensure the safety of all those we engage and encounter during this event, we ask that you wear the provided blue surgical mask and gloves.
*If you are unable to comply with the above request, we politely ask you to decline this invitation and consider this remote opportunity.