Donate Food and Personal Care Items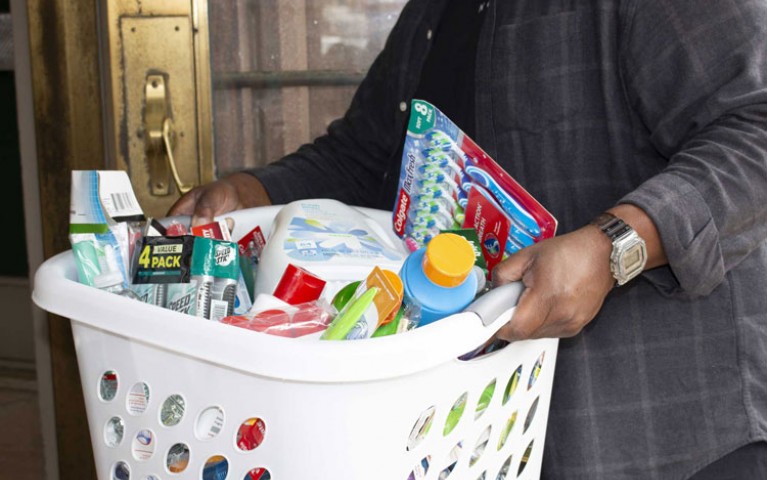 Where Can I Donate Food?
Grocery Lifeline
Project HOME launched Grocery LifeLine as an immediate and direct response to COVID-19. While we're all waiting for vaccines to roll-out and improve the health of our entire community, we know issues of food access will remain. Because of lost wages and other difficulties, we've seen an increase in requests at our Helen Brown Community Center food pantry, and we know similar needs exist across our 19 residences.
There are four simple steps to become a Grocery LifeLine:
Step 1: Select a profile. You will receive a confirmation email with all the details;
Step 2: Purchase (or order for delivery) items from the resident's personalized grocery list;
Step 3: If purchasing and delivering, please clearly label all bags with the resident's contact information provided in their profile. We ask that you wipe down all items for safety precautions; and,
Step 4: Deliver (or direct delivery of) the groceries to the Project HOME resident within five to seven days of your sign up. When arriving, please ring the front bell to enter the residence lobby. You, or the delivery person, can then leave the groceries with a staff member who will deliver the groceries to the resident's apartment. We ask that anyone arriving on site where a face mask.
Helen Brown Community Center Food Pantry
The Helen Brown Community Center offers food pantry services throughout the year and is open Monday to Friday from 10:30 a.m to 12:30 p.m.
Donations of non-perishable food items are always in need, including:
Breakfast bars
Canned food (fruit, vegetables, and beans)
Canned soup (low sodium)
Peanut butter and jelly
Hot and cold cereal
Oatmeal
Rice and pasta
Dried fruit snacks
Coffee and tea
Please call 215-232-3110 prior to delivery.
Where Can I Donate Personal Care Items?
1515 Fairmount Avenue—Main Office
Donations may be delivered directly to our 1515 Fairmount Avenue location Monday through Friday between 9 a.m. and 3 p.m. Donors can also schedule delivery of in-kind items from our Amazon Wish List.
Hand warmers
Twin extra large and/or full-size bed sheets
Bottled water
Hand sanitizer containing at least 60 percent alcohol (travel size or larger)
Bar soap
Clorox wipes and disinfectant spray
Body wipes
Lotion
Shampoo
Deodorant
Travel-size tissues
Travel-size first aid kits and/or foot healing cream
New washcloths
Snack bars
Used DVDs
Outdated prescription or non-prescription eyeglasses
Hub of Hope
Please deliver all donations to HOMEspun Boutique at 1523 Fairmount Avenue, Philadelphia PA 19130.
Deliveries can be made Monday through Thursday from 9 a.m. to 6 p.m. and Friday from 9 a.m. to 2 p.m.
The Hub of Hope is currently in need of the following:
Travel sized toiletries including

shampoo and conditioner
body wash
soap
toothpaste and toothbrushes
shaving cream and razors

Laundry detergent pods
New towels and washcloths
What Don't You Accept?
Unfortunately, we cannot accept donations of furniture, household goods, or perishable food.
We are also unable to accept:
Opened or used toiletries
Open boxes of feminine products
Children's clothing or cribs
Household chemical products, such as drain cleaner or paint thinner
Large appliances, such as refrigerators, ovens, and heaters
Televisions, used desktop or laptop computers, tablets, or computer monitors
Mattresses or box springs
Plumbing fixtures or building materials
We invite you take a look at our list alternative donation sites if we cannot accept your item. Please contact the Development Department at 215-232-7272 x3015 or vcoordinator@projecthome.org with any questions.