Be Change. See Change. Support Our Annual Fund.
Monday, December 14, 2020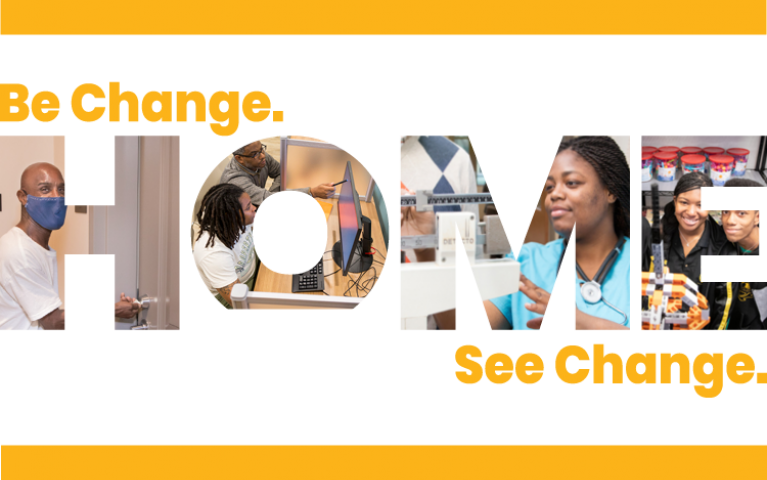 Dear Friends,
The key turned, the door swung open, and rays of bright June sunlight poured through the windows. James, one of 42 residents in our newest affordable housing site, the Maguire Residence, was HOME.
You'll soon learn more about James, but what we want you to know is that his path to this moment was driven by his determination, his resilience, and his dignity.
Together, we celebrate that, thanks to a resourceful and committed community, Project HOME opened a new residence in the middle of a public health crisis. Though there is much to celebrate, our work is far from over. 
Seemingly relentless forces – the toll of COVID-19; skyrocketing housing costs; minimal wage growth; spikes in substance abuse disorders; persistent, systemic racism; and our city's stubborn poverty rate – are putting more and more of our brothers and sisters at risk of experiencing homelessness. 
We know that it doesn't have to be this way.
We believe that homelessness can be solved in our lifetime, and we know that you believe this, too. Together with your leadership, your advocacy, and your commitment, we can make our shared vision of a transformed Philadelphia – where None of Us Are Home Until All of Us Are Home – a reality.
Thank you for believing that, with Project HOME, real and lasting change is within reach. Thank you for being with us on this journey.   
  
Gratefully,



Make An Annual Fund Gift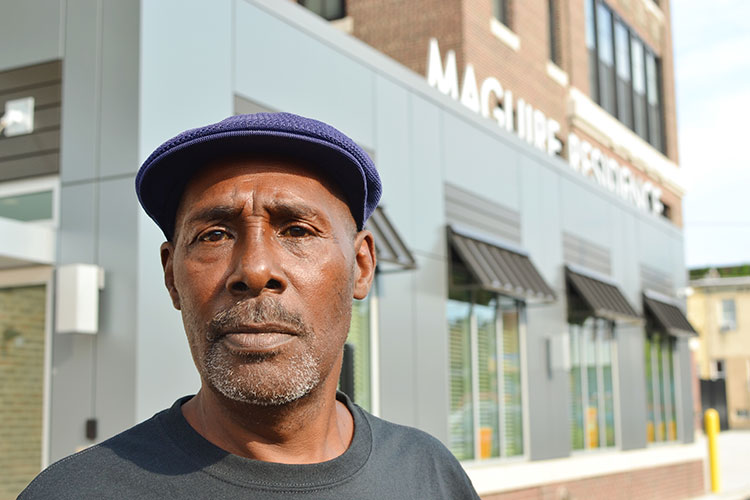 Be Love. See James.
James found Project HOME when hospitalized for a heart attack while experiencing chronic street homelessness. Outreach staff helped him find a home at Hope Havens Residence. After progress both physically and spiritually, he moved to St. Elizabeth's Recovery Residence, where he was an active community member. This past June, James moved into the new Maguire Residence in Kensington.  
James took full advantage of all the opportunities provided and now proudly works at the Hub of Hope as a restroom attendant.  He enjoys working with newcomers and giving the same guidance he has received. He is grateful for the job training he received at the Honickman Learning Center and Comcast Technology Labs and loves his job. He uses the Stephen Klein Wellness Center for all his medical needs and checkups for his heart.   
Your generosity provided these opportunities for James and for our young adults who have aged out of foster care, K-12 students working to graduate high school and enter college, elderly adults with disabilities, and individuals struggling with substance use disorder.  
You helped write James' story and together, we are starting to write so many more.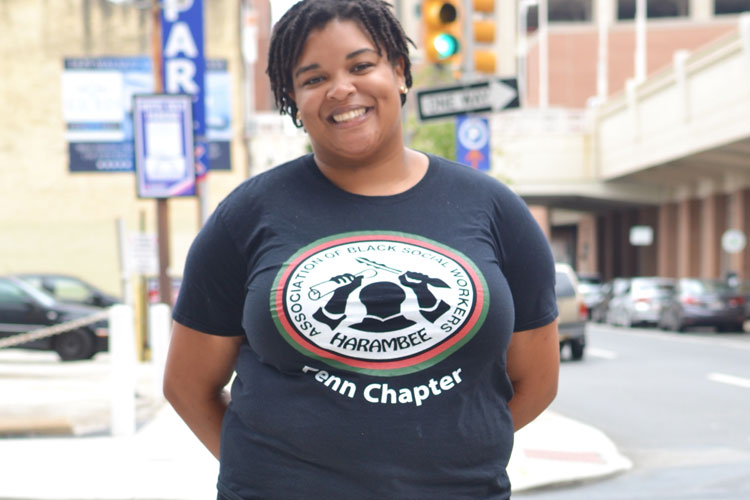 Be Strength. See Kiara.
As a respite program manager at our Sacred Heart Recovery Residence, Kiara is familiar with a phrase that closes every job description: "Other Duties as Assigned". The traditional scope and scale of her role at Sacred Heart is centered on providing each of Sacred Heart's 62 residents who are focused on recovery, with the supportive space and sense of community that their journey requires.  
Shortly after COVID-19 gripped Philadelphia in March, Project HOME's need for immediate, safe, and quarantine-in-place shelter transformed overnight – so did Kiara's job.  
Thanks to our network of invaluable partners, Project HOME secured 36 hotel rooms that allowed us to quarantine high-risk community members, and to safely house high-risk individuals who were entering our community for the first time. The hotel's oversight soon became a full-time job, and in the face of increased personal risk, Kiara's decision mirrored what we witnessed across all of Project HOME's dedicated, tireless, frontline staff: She stepped up.  
"I've recently been working with almost every Project HOME department to ensure residents and those coming in off the streets are taken care of immediately. It's a lot of work, but their additional support has enabled me to give my staff the support they need right now," reflected Kiara.  
Kiara's actions are a testament to our community's commitment to our mission of bringing everyone HOME; a commitment that has been strengthened throughout COVID-19 by donors like you. 

Recent Milestones
Housing 
We have built 936 homes for formerly homeless young adults, families, women, and men- especially people impacted by mental illness, disabilities, and addiction 
Opened Maguire Residence in June of 2020 with 42 homes to support individuals in recovery in the heart of Kensington  
We started construction on Peg's Place, 40 permanent, supportive homes for formerly homeless and low-income individuals 
In 2021, we will break ground on a Long-Term Recovery Residence Kensington for individuals who are street homeless with substance use disorder and those exiting a treatment program (including withdrawal management programs) after experiencing homelessness 
Opportunities for Employment  
831—Adult learners participating in our Adult Education and Employment Program 
313—Engaged in job training 
93 percent—Certified Peer Specialist (CPS) graduation rate
Medical Care  
13,610 medical visits at the Stephen Klein Wellness Center  
3,662 dental visits at the Stephen Klein Wellness Center  
2,036 medical visits to the Hub of Hope
Education  
Moved all the K-12 and College Access Program programs at the Honickman Learning Center Comcast Technology Labs online during COVID 19 
100 percent of 2nd and 3rd graders improved their literacy and vocabulary  
Middle school robotics team successfully competed at FIRST (For Inspiration and Recognition of Science and Technology) 
Awarded more than $109,000 in college scholarships for 30 College Access Program students 

Our COVID-19 Response
Testing: Received approval to administer Rapid COVID-19 Tests through Healthcare Services at the Stephen Klein Wellness Center and Hub of Hope 
Hotel Safe Space: Program developed and executed to house vulnerable Project HOME residents and Hub of Hope guests needing quarantine space with 24/7 staffing and meals 
Staying Safe: 15,000 in-kind masks and PPE donated to the Project HOME community.   
Food Pantry: Need for essential groceries for food-insecure residents served in the in 19121 zip code at the Helen Brown Community Center Food Pantry has increased 400 percent

Be Hope. See Hope.
Have you considered making a monthly contribution? By giving monthly to Project HOME, you're helping our outreach teams save lives every day. 
You can also support Project HOME's annual appeal by recommending a gift through your Donor Advised Fund. 
Does your company provide a matching charitable donation? Many employers will help you make your gift go twice as far by matching your gift.
For information on how to donate via wire transfer, stock transfer, or ACH payment, please contact Sungbin Kim at sungbinkim@projecthome.org.